Hello there Internet denizens!  So here we are, face to face….well screen to screen I suppose.  I decided a bit ago that because I'm doing more quilting and sewing, I wanted to create a space in the world to share these things.  Along with history, projects in progress,and provide a place for historical sites to come to and see what I offer for those times when they invite me to come play at their sites.
So how did this all start?  Well it started with my Aunt Becky.  She's my mom's oldest sister, and has been quilting for over 55 years.  She had a quilt for auction at a church bazaar, and I was trying to get it.  Unfortunately, it went too high in price at the time (I had just bought a house), and she made me  a proposition:
"I'll piece a quilt and you can come over and learn how to quilt.  If you like it, you have learned how to quilt.  If not, well then you still get a quilt."
I took to it like a duck to water.  While at first my stitches were bigger and not so even, over time they've gotten better, and my enjoyment of quilting has only grown with it.
Because piecing quilts can sometimes (usually in my case) take needing to use a sewing machine, soon after I started quilting with Aunt Becky, I started collecting Vintage sewing machines.  My first was a Singer Fashionmate 237, which I still use frequently.  The collecting led to many machines in my collection, from electric to treadle, to hand crank.  And I started taking the handcranks out for people to try sewing, and the rest, as they say, is history. Modern history, but history.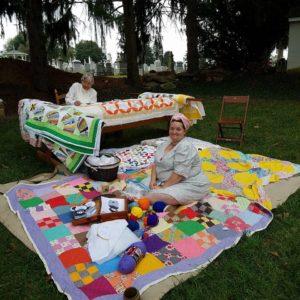 My goal on this blog is to talk about the history of sewing machines, the history of quilting, my quilting projects, sewing machine rehabilitation projects, and really whatever sewing related fun stuff I find that I want to share.  Hopefully I'll make you, the "sewluminati" laugh, or at least see something neat. 
So grab your thimble and your needle and come sew with me!