If you've been hanging around the blog, you can see that I love making scrappy quilts. The more variety, the happier I am when it comes to making quilts.  That means I don't typically buy massive bolts of fabric or extensive yardages.  Fat Quarters are nice, but if you really want to spice things up, you need a bunch of different ones.  Or you need to have assembled a lot of quilts with lots of lengths left over from those quilts.  Since I hand quilt, that isn't always the case for me.  Enter: the Scrap Bag.
Traditions at the White Swan (Located in Hagerstown, MD) is probably my favorite quilt shop in the entire country.   Not only do they have the fabric styles I enjoy the most (Civil War Repros, 1930's repros and feedsack repros), the owners and staff are super friendly, and they carry scrap bags.  For under 10 dollars, I get a bag stuffed full of the scraps that they couldn't use- ends of fabric bolts, leftovers from cutting kits, leftovers from cutting fat quarters and fat eighths, etc. I am totally addicted to these little bags.  I call them Trick or Treating for Fabric, because you never know what you're going to get inside them. While you can see some of the fabric in the bag, most of the time there's so many different styles, prints, and designs, you don't actually know what is fully in the bag until you open it. 
Unfortunately, with the move, the Swan is thousands of miles from me. So I can't just go get my scrap bags on a whim.  However, I just recently went back east for the holidays, and was able to stop in.  And I purchased several scrap bags.  I may have actually had to play around with my suitcase weight because I bought so many…or it was the cookies I was bringing home.  We'll pretend it was the cookies.  I'm hoping to save them and open them slowly, savoring each package with whats inside. How do I do that?  I wash each individual bag (or 2) in a zippered lingerie bag.  I also include color catchers in the wash of course, but the main rule is that I don't look in the zippered bag until after the wash is finished. Then the treating begins!
I look through the pile of scraps in the bag, determining which ones I like and don't like.  I am not personally a fan of Batiks, so I save those and other fabrics I'm not a super fan of, to put in the raffles at the TOGA events, or to donate to the Textile Center's annual Garage sale. OR to use as rags, or give to friends who like batiks or other fabric styles I may not.  Then I'll take the rest and add them to my scrap collection to be made into quilts.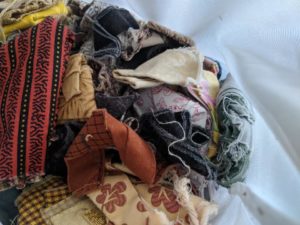 Now, some folks may have to have a project in mind to get the juices flowing for such a beautiful bag of fabric. So recently, I decided to give myself a little challenge with 2 scrap bags.  How many squares of a quilt could I make?
I decided to use Elizabeth Hartman's Awesome Ocean to challenge myself. I had been wanting to try one of her patterns, and because of the variety of prints and styles she uses in her projects, I thought it would be a good fun project. Elizabeth's patterns are mostly animal/plant based (and she has a unicorn pattern I need to get), and have both the ability to be a small quilt, or a large quilt.  Her pieces, while they look sizeable on the pattern, are actually fairly small, and some of the pieces you need to cut for some of her patterns are even only 1″x1″ – super tiny when you think of adding a 1/4″ seam to that!  So it seemed like an excellent choice.  The one exception I gave myself was that I did buy yardage for the background bit, because there wouldn't be enough for a background.  everything else had to come from the fabrics in the scrap bag.
While I haven't finished assembling everything- in addition to loving scraps, and quilting, I seem to have project attention deficit- I jump project to project and new fun thing to new fun thing- I have assembled several of the creatures, and cut out the pieces for several more.  I have 2 of each animal, currently cut or sewn.  That's pretty impressive when you think of how many different fabrics and colors I needed. Below is a gallery of the finished pieces I have. But you can really do this pattern, or really almost any of Elizabeth's patterns with just some scrap bags, and truly make it your own quilt.  And if you're at Traditions, buy some scrap bags and other great stuff from them.  Or buy me some scrap bags, because they really are the gift that keeps on giving to me. 
PS.  I now totally see where I messed something up.  But I think it still looks ok….how about you?  Can you spot it?