I recently went to join a bunch of awesome sewing enthusiasts for a retreat in the wilds of Minnesota.  They're all members of a group that enjoy using people powered machines ( Treadles and Handcranked sewing machines.) So I'm trying to get some things together for that, and realized I need to keep a running tally of the projects I have in progress.  My goal is to share the patterns and progress of my projects as they go along, so a master list is probably a really good idea, and now is a great time to start that as I left with several projects in tow, and returned with a ton more fabric for more projects!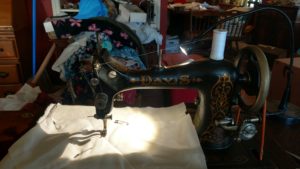 As a hand quilter, I don't tend to work projects as fast as some of my counterparts who use machines to quilt, or have a longarming service perform their quilting.  So a lot of my projects are  in stages.  But I also have other projects I'm starting that aren't related quite to quilting, so I'll be listing them as well.
Project 1 – The Great Circle Quilt
Currently in the quilting frame is a quilt for a dear friend's daughter, who is almost 2.  This quilt is the size of a regular single bed, so hopefully it'll last her for several years.  It is a pattern from a book called "Aunt Martha's Favorite Quilts" which my aunt gave me, but you can still purchase it  from Colonial Patterns.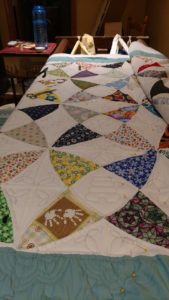 Project 2- Grandmother's Fan
Another fantastic quilt that I have finished piecing, but still needs the border put on.  This will be the next quilt to go into the frame.  Most of the pieces in this are from my feedsack collection, and I'm really excited to quilt it.  Another one from an Aunt Martha's book, but I was inspired to put it high on my list to complete thanks to Aunt Becky's work on hers.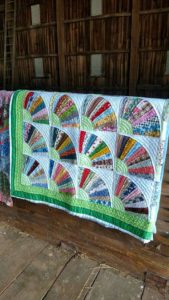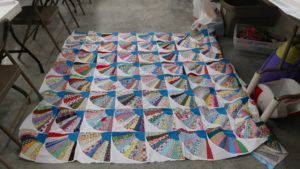 project 3 – Summer Days
This quilt is in the assembly stage, but its also special because I'm trying to do it all on my treadle machines, which is a first for me.  The pattern was purchased at Traditions at the White Swan in Hagerstown, but you can also find it online at Timeless Traditions.  Here's what it will look like when piecing is finished.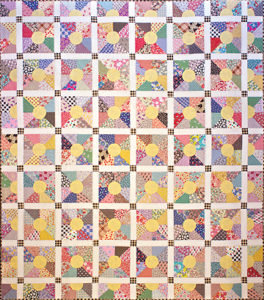 Project 4- hummingbirds
This pattern was found by my Aunt Becky in a stack of unfinished projects/ pieces that belonged to either my Grandmother or Great Grandmother (she's not sure which.)  She made a copy of the pattern for me and it is my first hand piecing project, which I take with me on travel and when I'm going somewhere to sit and listen for a long time.   This will be a long term project because of the hand piecing and then the hand quilting.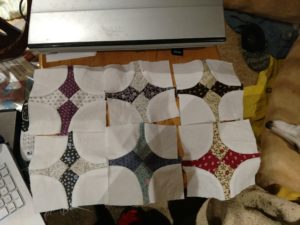 What's neat about this quilt block is that its very small, but also looks like a Snowball quilt, but it isn't.  The colored pieces are more like arrows, and dart into the center, which is why I call it the Hummingbird.
Project 5- the Feedsack database
This is a pet project of mine, that I'm currently working on in my spare time (ha-ha.)  I am taking all of my feedsacks, scanning the pattern into Jpgs, and saving them in  a file to later be recorded in a database.  At present I have over 350 feedsacks recorded, but I still have many more pieces of feedsacks in my collection to continue scanning in.  As I have a passion for these fabrics, and teach a history lesson/trunk display of them (see my Classes page for more information.)  So this is an ongoing labor of love, so to speak for me.  I'll be delving more into Feedsacks at a later time.
Project 6- cutting new quilts
I currently have several quilts in the cutting stage.  I tend to be a very scrappy quilter, so curring for me can be done for multiple quilts at the same time.  Whether or not these quilts will be completed is totally a yet to be determined, but they're being done.
Quilts in the cutting stage:
Joseph's Coat
Nosegay
Starflower
Faithful Circle
Kaleidoscope
Mayflower
Draped Dresdens, or Ferris Wheel.
Baby quilt for a friend
Cutting is one of those things I can do while watching Television in the evenings when my fingers are sore from hand quilting and I'm not in the mood to sit behind a sewing machine all night. I tend to not be a rotary cutter type person, preferring to use a pencil and a vinyl pattern piece to trace and cut. I'll go into that on another blog post too.
So as you can see,  in addition to working on my blog posts here, I have a lot of projects on my plate, but I'm excited to share their progress with everyone and hopefully encourage you to work on your UFO collection!