One of the things I love about quilts is how they seem to bring everyone together.  Almost everyone I talk to, when discussing how I'm a quilter, will ooh and ahh; then with a wistful look in their eyes recall a quilt their relative had or made for them.  Its a magical moment for them, and for me, because we've bonded over pieces of fabric and the warmth they bring us.
Because of these moments, I've incorporated my hand quilting into a living history demonstration and display.  So few people hand quilt anymore, and sewing in general isn't something that happens in every household as it did 50 or 60 years ago.  So several times a year (hopefully more in the future), I put a quilt frame in the car, along with a quilt top I purchased at a yard sale or antique shop, and set it up at an event to quilt upon.  Everyone is invited to try their hand at quilting, though rarely do we ever get anyone who actually is willing to try. But I also will set out coloring pages of quilts, or lacing cards for kids to try sewing on, so that at least they're getting to try something they may not be exposed to elsewhere.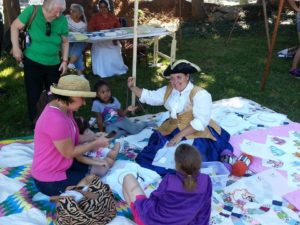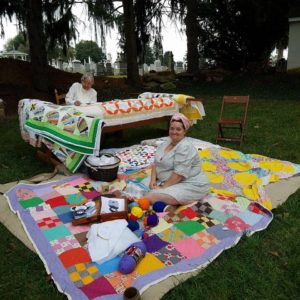 One of the best things, apart from allowing the public to try their hand at a new skill, or remembering the joy in one they've lost, is that my Aunt B joins me on many of these demonstrations.  She is the one who taught me how to quilt,  and has been quilting for over 60 years.  This week she celebrated her 77th birthday, and tomorrow she'll be joining me again at Middletown Heritage Festival to share her quilts and her passion.  She really enjoys getting out and quilting, and talking to others about their quilts, families, etc.  While the history part is my area of expertise, she's invaluable in talking about how she learned, how to teach others, and showing people how its done.  Also showing folks that you're never too old to get out and have fun.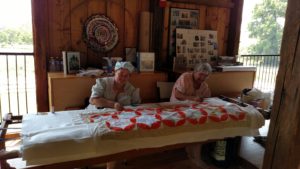 While some might call our work traditional, I love the lines and love that just call from every one of Aunt B's quilts.  From the time she taught me, we now have this connection – we talk on the phone about weekly, and everytime I come down she shows me what she has in the frame, and what she's been working on.  And I then start piecing something similar because I love how it looks, and want the challenge.  Which is why I now have several tops waiting to go into the frame.  Aunt B displays her work at the events we do, and hearing people admire it I think also makes her glow a little more than she usually does too.  I love that, and I love that I'm able to do that for her.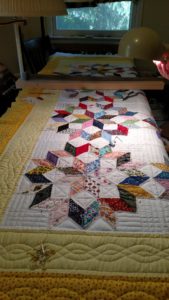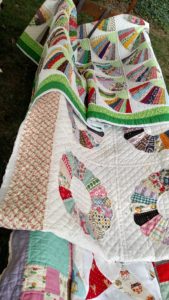 In addition to quilting demos, we also will bring out hand crank sewing machines, to let children and adults alike try their hand at using a sewing machine.  So many times I've heard of people (myself included) being afraid or intimidated by sewing machines.  This is a great way to have people gain familiarity with the machines, and perhaps even be interested in trying to sew on their own, or take a class.  Hand cranks allow for better control of the machine, and also keeps little fingers from getting under the needle better than having a motorized machine or treadle available for them to use.  I also have practice sheets made of paper for folks to try before trying to use actual fabric, unless they've said they're a long time sewer.  One event, I had a lady spend 20 minutes making quilt blocks on one of the hand cranks because she enjoyed it so much!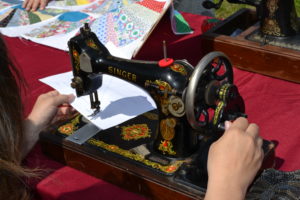 If you're interested in trying a handcrank, seeing some quilting, or even trying to hand quilt, Aunt B and I will be found at the following places in the next month:
Saturday September 30- Middletown Heritage Festival Middletown, MD
Saturday October 7- Harvest Festival – Montgomery County Agricultural Farm Park
Saturday October 21- Centreville Day – Centreville, VA.  We'll be in the Sears house.
And if your quilt guild, historical organization, historical site, homeschool group, etc would like to have us do our demo or have a hand crank sewing class, please feel free to contact us with the information on the contact us page!
Keep stitching!